take control
Cloud Management
for MikroTik
.
MikroTik cloud management with ISPApp is simple and easy to set up. Launch your own private cloud server with a central dashboard to automatically configure, monitor, and remotely manage many Wi-Fi routers.
Get email alerts when routers go offline, event logging, performance monitoring graphs and charts including real-time traffic and bandwidth charts, and a browser web shell for remote access. Use ISPApp to upgrade firmware, run scripts, change passwords, set internet plan speeds, and auto-disconnect delinquent subscribers who don't pay.

Quickly Install New Subscribers
Your field technicians and installers can click and drag the ISPApp client script into Winbox to automatically configure a new subscriber's Wi-Fi router.
After importing the script your MikroTik routers will automatically "phone home" and get their configurations from your private server including the Wi-Fi name and password.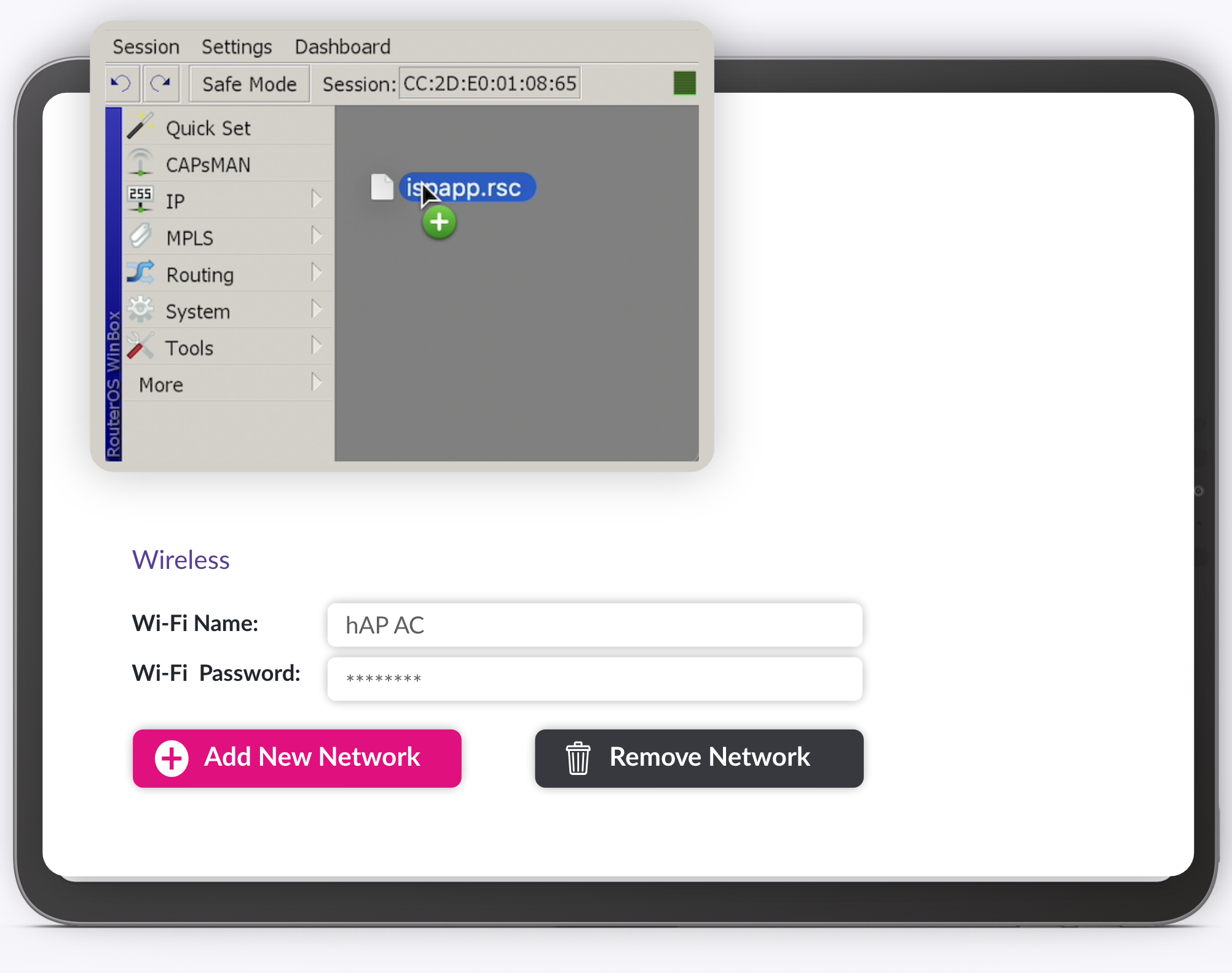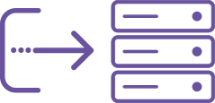 Works With Your Existing MikroTik Routers
By request ISPApp will bulk onboard your existing network routers so you can monitor,
manage, and control all your existing RouterOS routers from your ISPApp dashboard.

Internet Problems
vs
Wi-Fi Problems
Online availability, Wi-Fi signal strength of connected routers, and network performance including the connected Wi-Fi routers and their Wi-Fi signal strength.
Wi-Fi Problems
Real-time Wi-Fi Signal Strength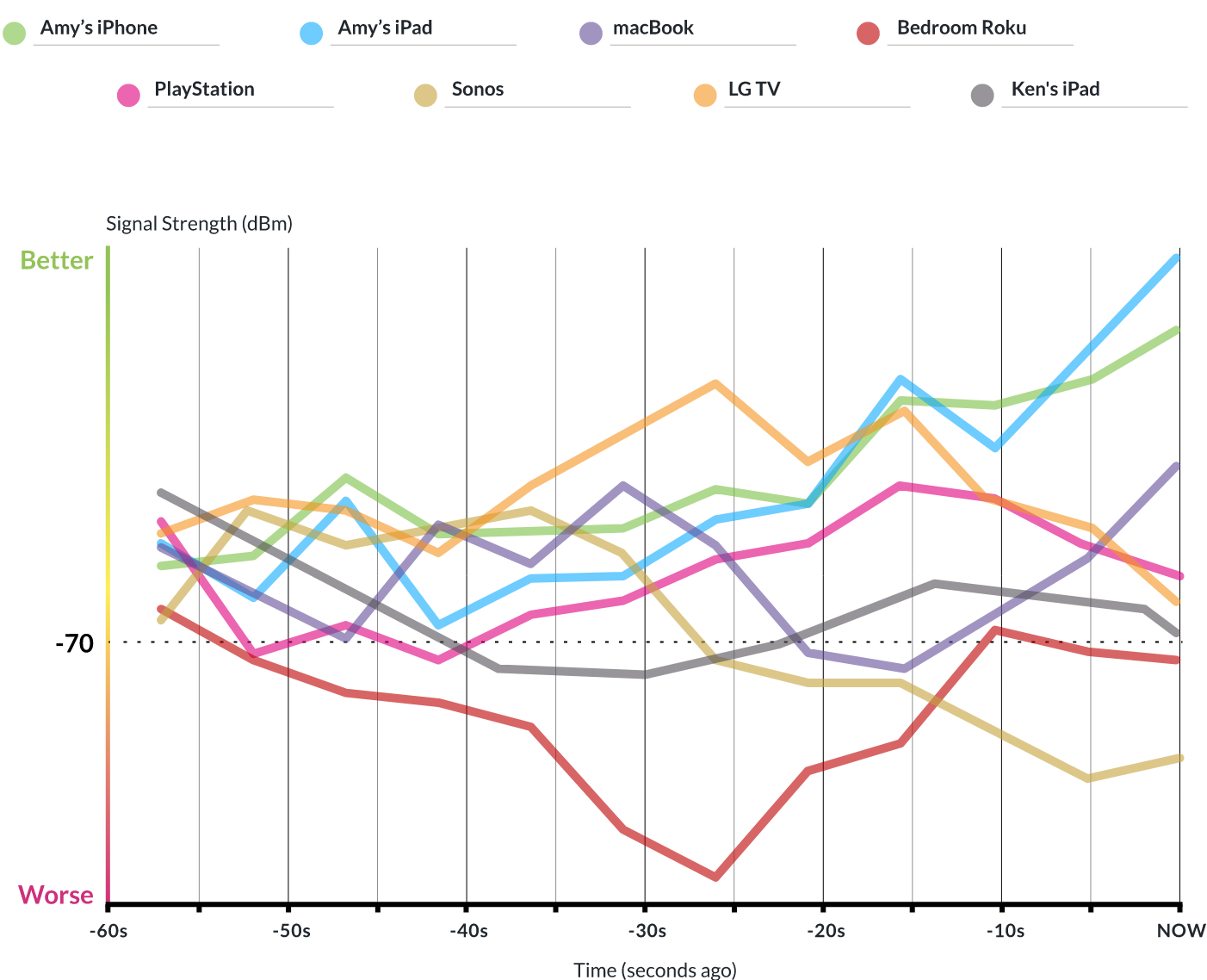 Internet Problems
Real-time ping to google.com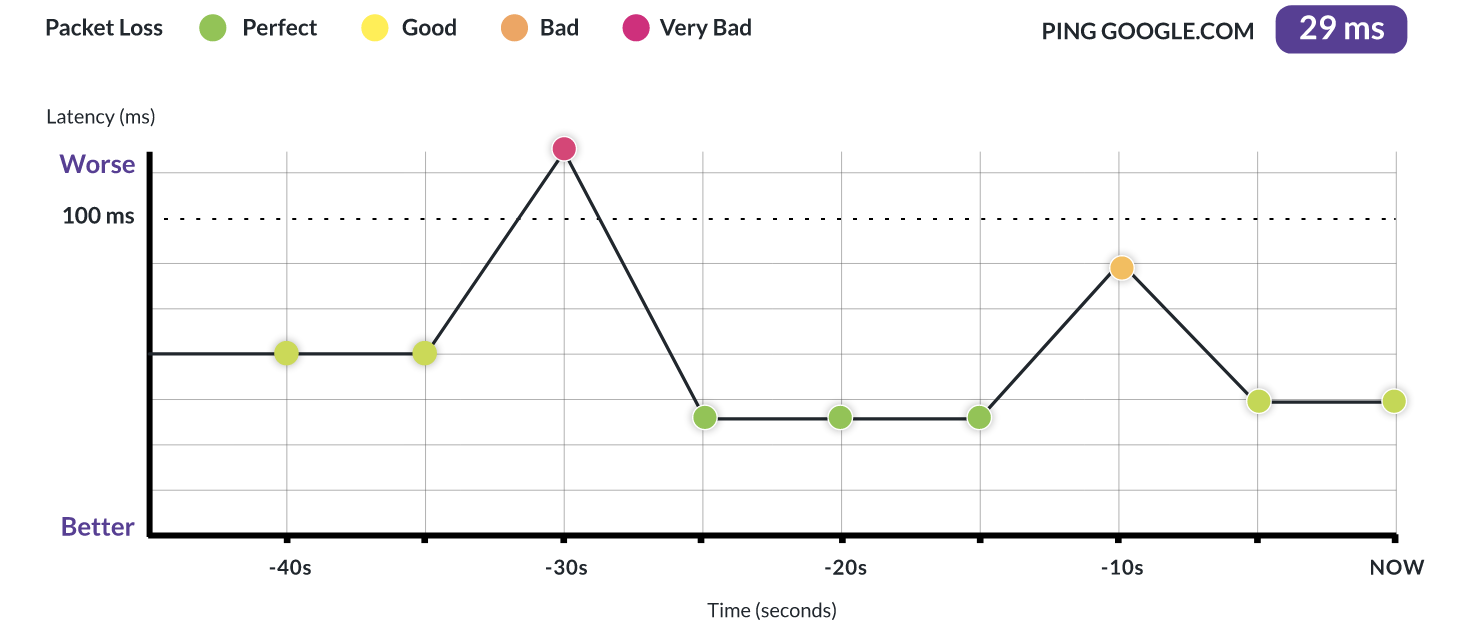 Online Availability

Performance Monitoring
Quickly and easily identify performance and reliability issues with MikroTik routers. Your MikroTik routers will send their performance data to your private server on scheduled intervals. This performance data includes round trip latency to internet servers, bandwidth utilization, and wireless signal strength.
Bandwith for ether10-AUSTIN - Last 24 Hours

Offline Alerts
If a router fails to connect to the server the ISPApp send alerts to the admin team.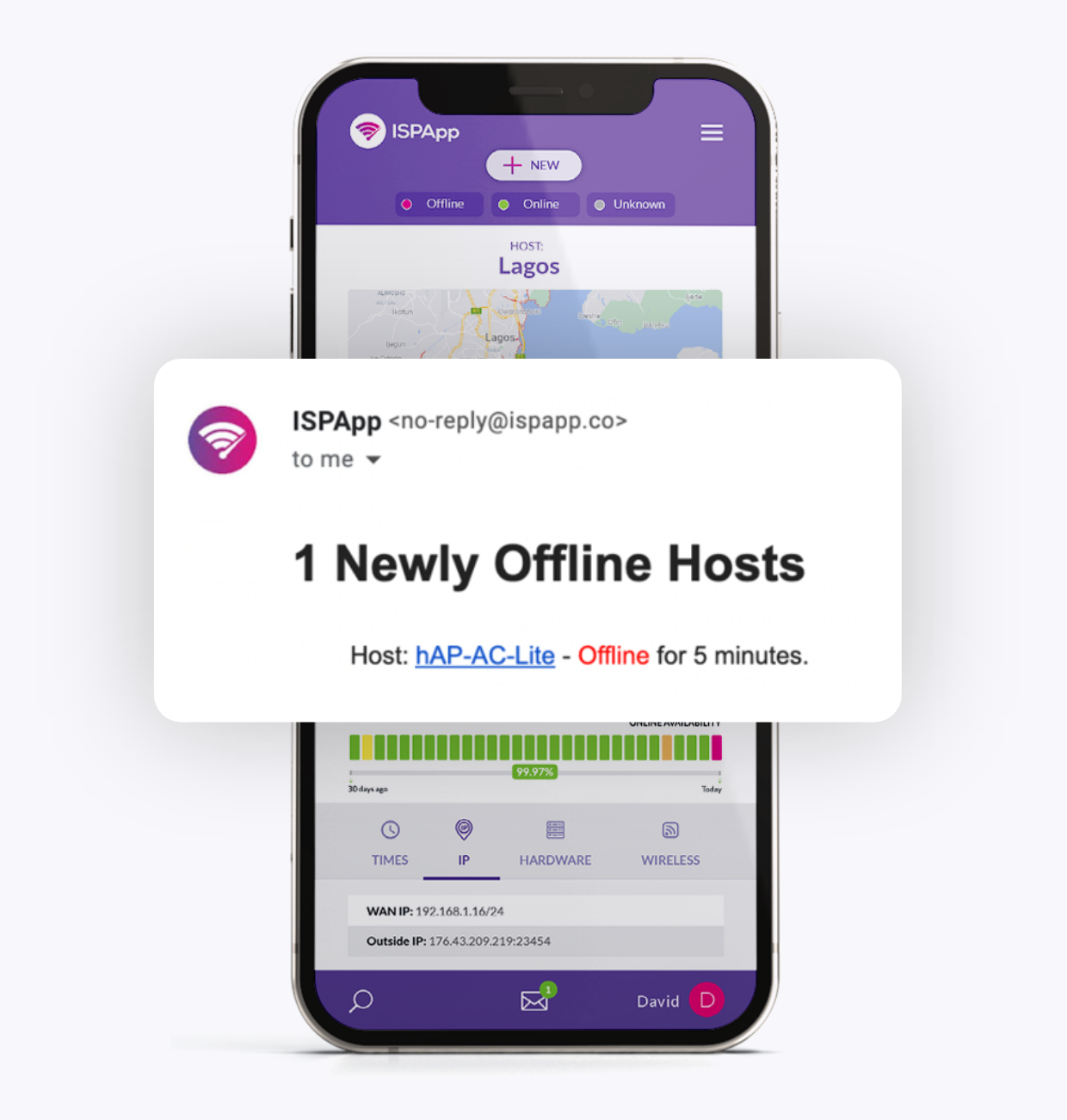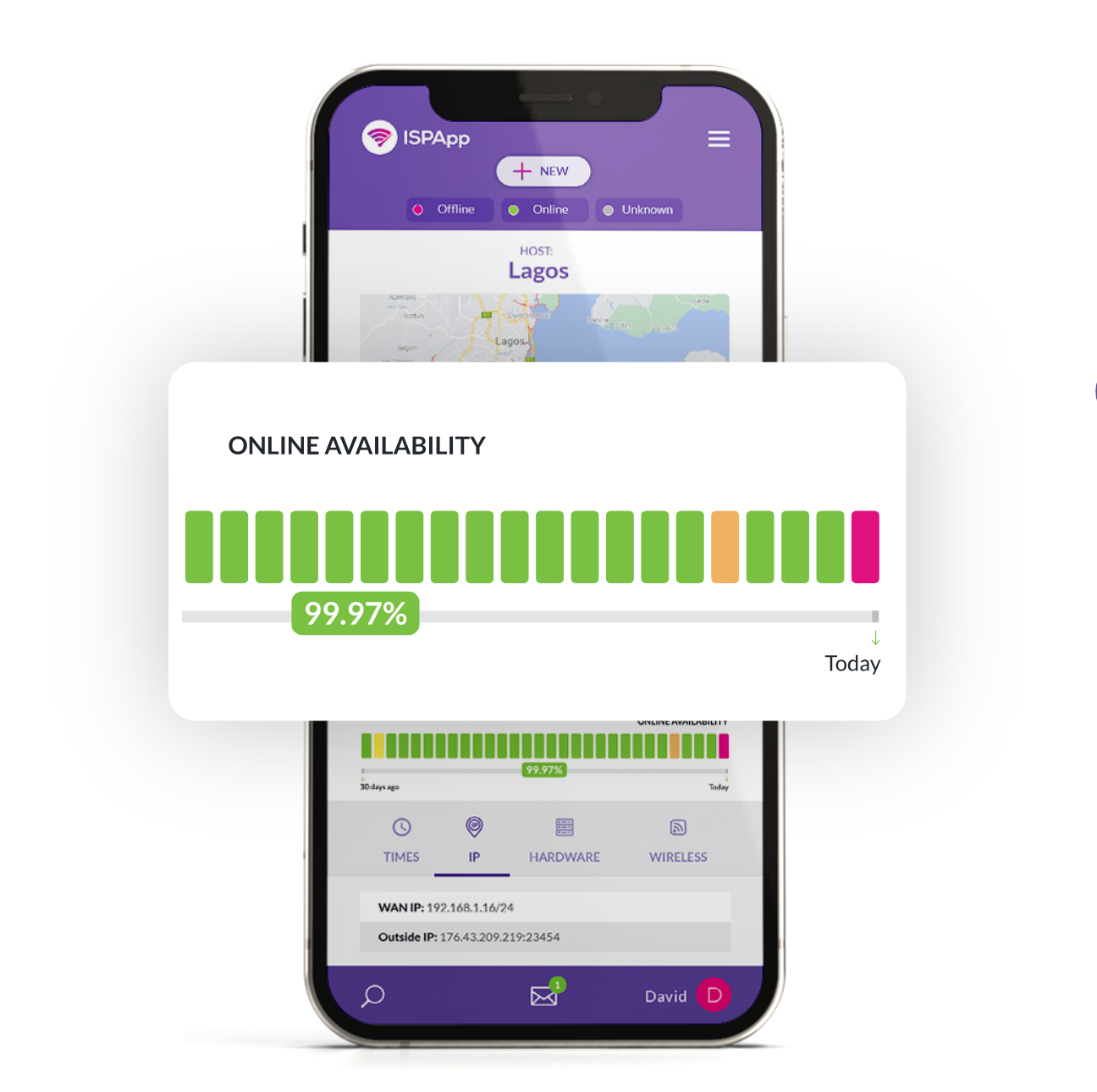 Online Availability
ISPApp shows router online availability and outages in the Update Charts. When a router is 100% online then the day will be represented by a solid green block. Outages are represented by shades of yellow, orange and red.
Ping Charts
Ping charts allow you to instantly identify internet connectivity performance issues. Once installed the ISPApp clients automatically generate ping charts with round trip time (RTT) values from the routers to internet servers. Problems with bandwidth congestion or internet connectivity cause high spikes in the latency values and packet loss.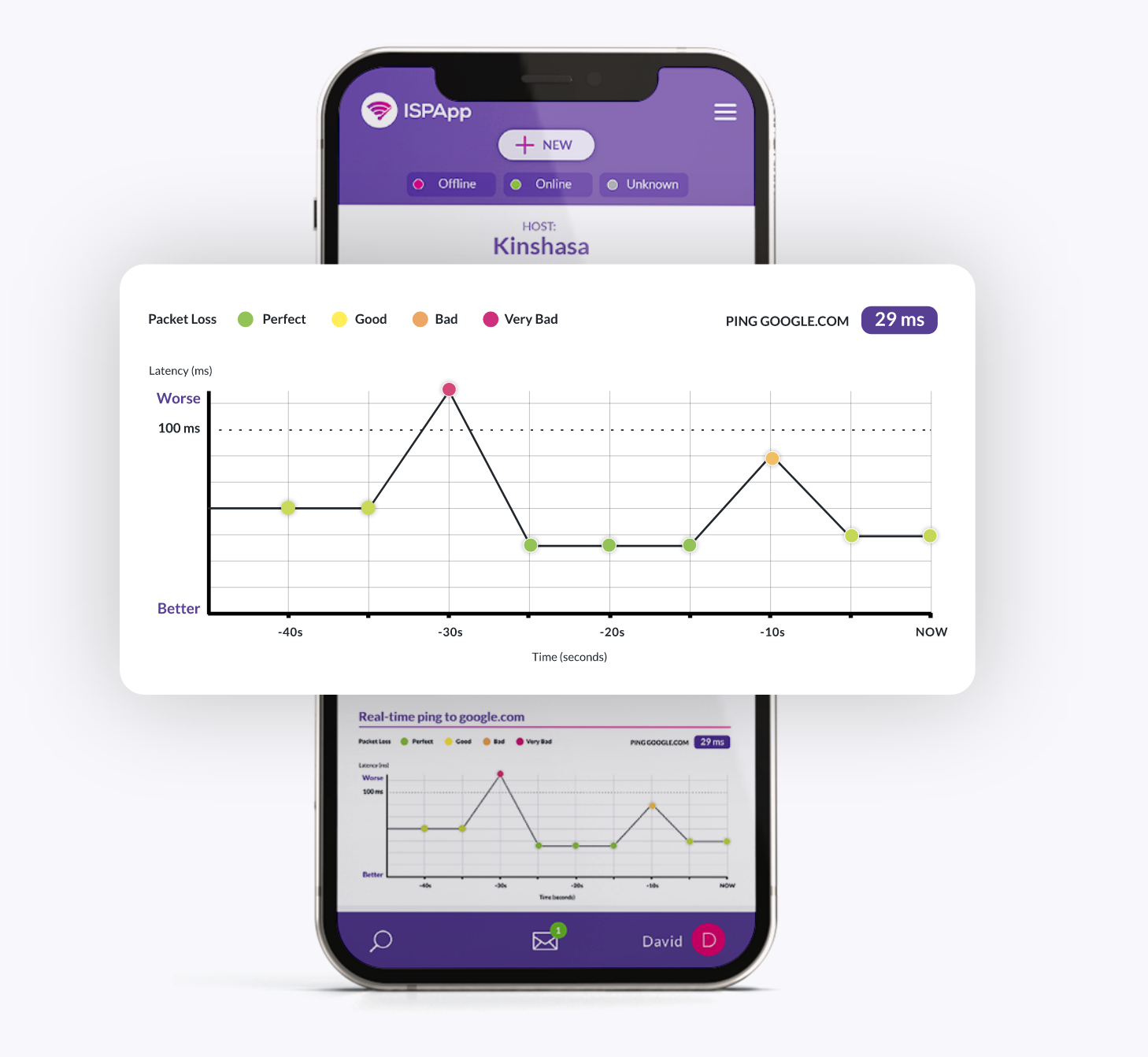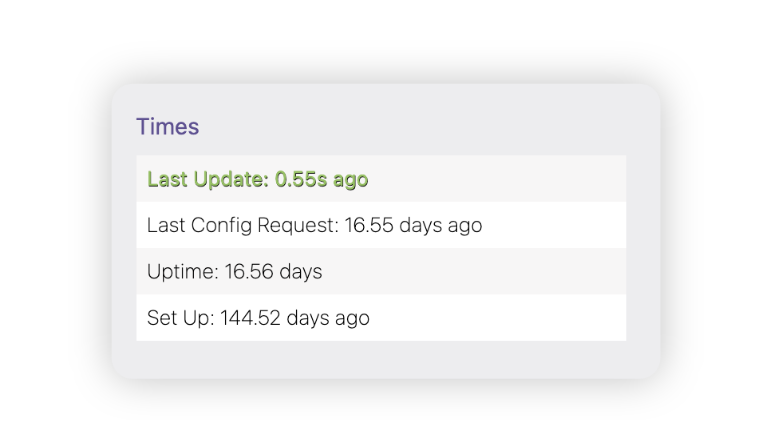 System Uptime
System uptime shows you how long the router has been powered on and the system uptime counter is reset when the router is power cycled. System uptime is useful to identify physical problems with the router and local power interruptions.
RouterOS Web Shell
The web shell in ISPApp allows you to remotely send commands to your routers.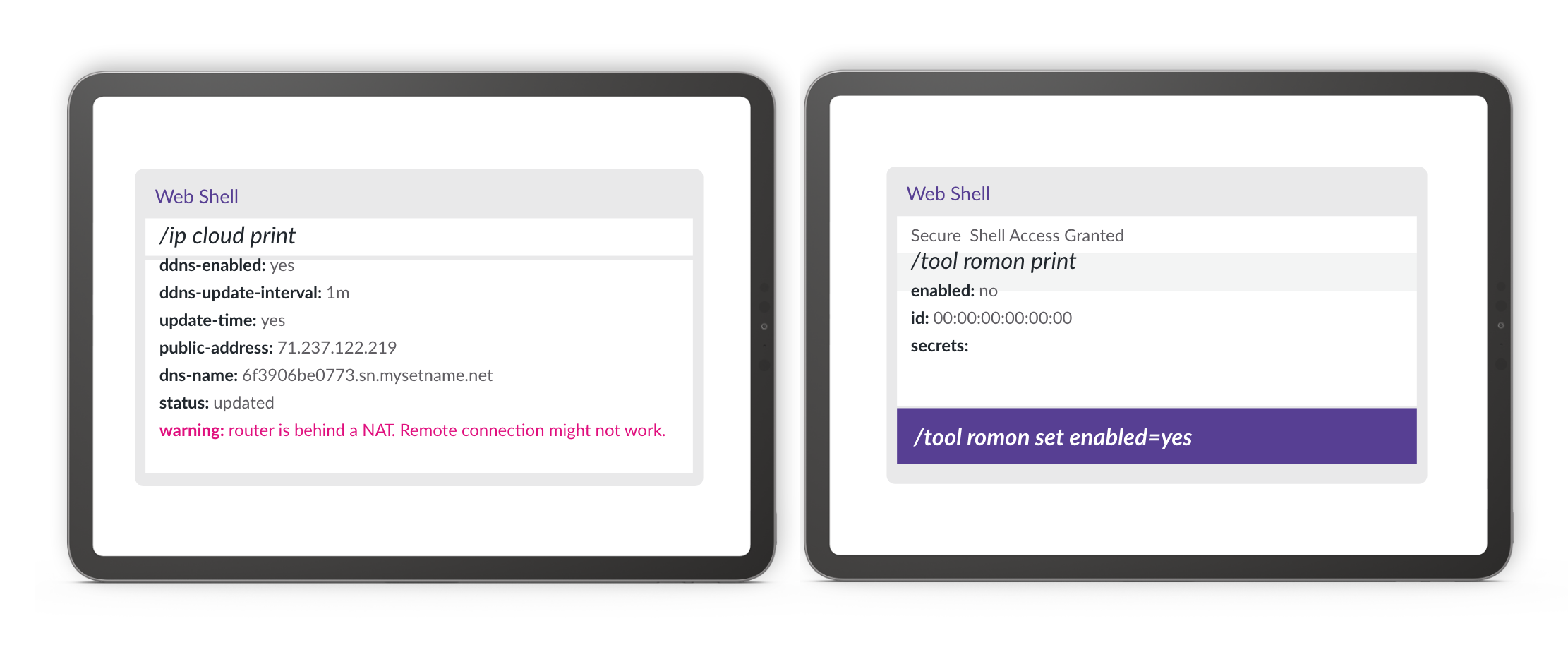 You can easily perform routine network management tasks like upgrading packages and firmware, changing passwords, enabling or disabling RoMON, and disabling and restricting IP service ports. The web shell uses the MikroTik RouterOS HTTPS fetch tool. This allows you to securely send commands to routers even if they are behind NAT firewalls. With ISPApp you can control your routers even if you don't manage the network and firewalls. This shows the output of an "/ip cloud print" command: The web shell displays a warning that the "Router is behind a NAT. Remote connection might not work." However, this is not a problem for ISPApp. If the router has internet connectivity then you will be able to manage it with ISPApp.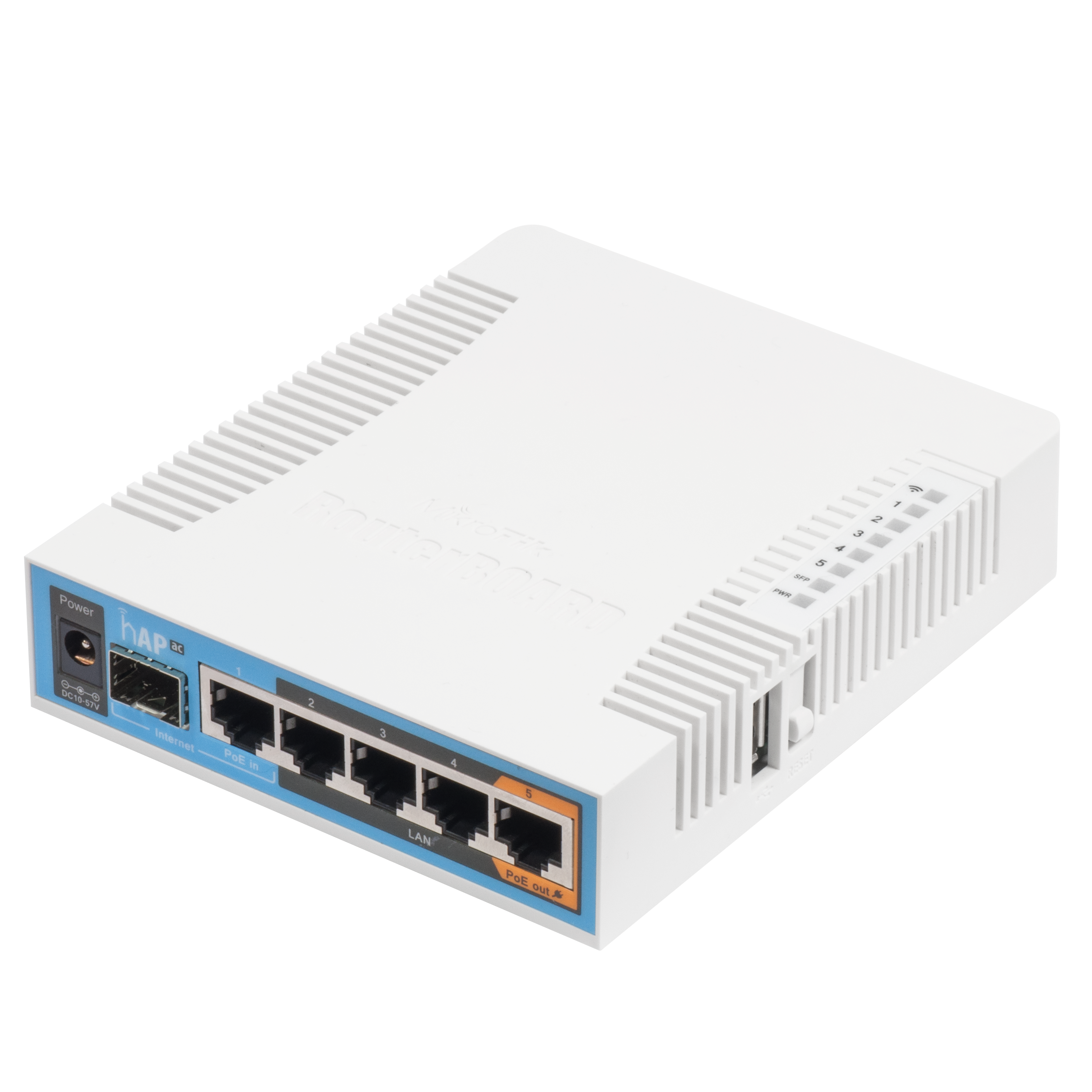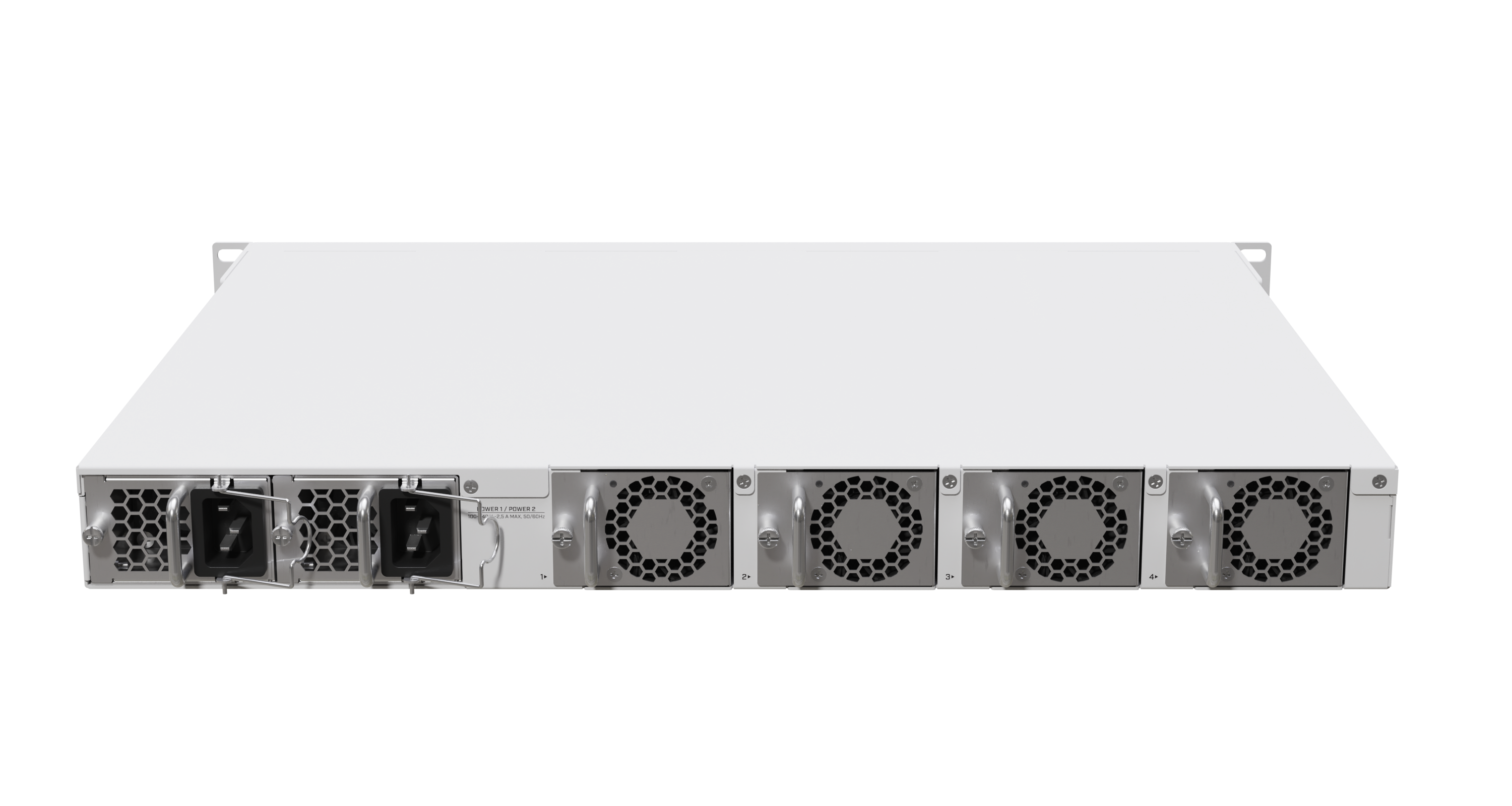 Versatile Hardware

MikroTik is a leader in the network equipment industry. They have extremely diverse and versatile product lines that include customer premises equipment (CPE) for 5G/LTE, fixed wireless, and fiber-optic deployments, Many MikroTik routers have POE-in and POE-out ports so they can be used as outside ONUs in a PON installation or as inside Wi-Fi routers. MikroTik also has one of the most complete and cost effective 60 GHz 802.11 AD solution on the market.

Enterprise Routers and Switches

MikroTik also makes fabulous routers and switches for enterprise. These include 10G rdatacenter routers, POE and fiber switches, and 10G fanless routers with integrated Wi-Fi.

RouterOS

MikroTik doesn't just make great hardware, MikroTik's RouterOS is also amazing. RouterOS includes support for MPLS, BGP and OSPF routing protocols for redundant internet connectivity, Network administrators can configure RouterOS routers using data link layer tools like MAC-Telnet, ROMON and Winbox. These allow network administrators to configure IP connectivity.
MikroTik's RouterOS

Uniquely, ISPApp provides real-time and historical performance charts for latency, Wi-Fi signal strength, signal-to-noise-ratio (SNR), bandwidth utilization, and online availability and stores this data for a full year. Subscribers often don't understand the difference between slow and intermittent Wi-Fi connectivity and slow and intermittent internet connectivity and subscribers hate calling for support. It iseasier for them to switch providers than work with your support staff to fix their frustrations.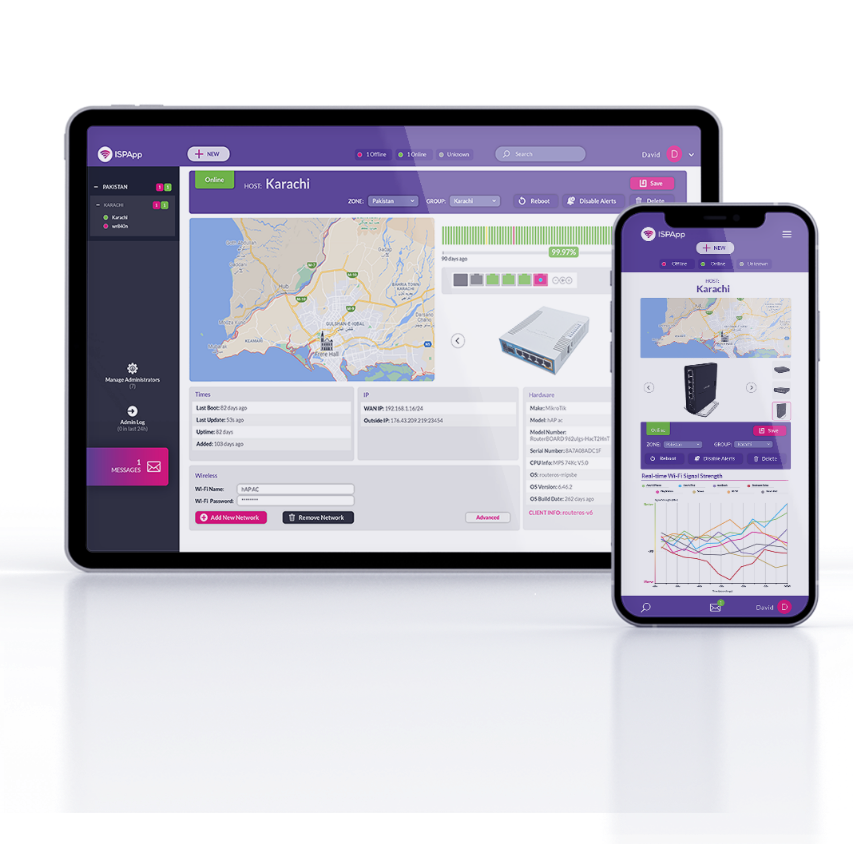 ISPApp launched the world's first software-as-a-service (SaaS) platform for Internet Service Providers (ISPs.) Our revolutionary new platform enables the rapid delivery of services to ISP subscribers, decreases the total cost of infrastructure deployments, and increases the expected lifetime value of subscribers. ISPApp uniquely allows ISPs to sign up with the click of a button. Using cloud technology, a secure, private server automatically launches, just for that ISP. The ISPApp dashboard controls the network equipment and the subscribers' real-time experiences. The ISP can easily see each router's performance and history. ISPApp makes it effortless to onboard existing network equipment or expand a network with bulk network automation tools. The network routers (such as gateways, access points, stations, switches, or routers) are loaded with client packages or scripts which send the routers' performance data to the secure private server at routine intervals. The server keeps the secure connections alive to send commands and configurations back to the routers. The ISPApp dashboard displays dynamic charts and reports of the aggregated performance data of the entire network.
New

CCR2216-1G-12XS-2XQ
The new MikroTik flagship with the power of a whole fleet. Unleash the power of 100 Gigabit networking with L3 Hardware Offloading! This router can be a handy drop-in upgrade for existing CCR1072 setups.

CCR2004-1G-2XS-PCIe
A smart PCIe network interface card that adds full-fledged router capabilities to your servers. The smart and easy way to create 25 Gigabit networks if you want to save space in your server room!
CCR2116-12G-4S+
Forget about CPU limitations in 10G setups with this powerful 16-core ARM CPU based CCR. Double the performance of our previous 36- core CCR, 6x faster BGP performance. Includes an M.2 PCIe slot.

CRS310-1G-5S-4S+IN
10 Gigabit fibre connectivity way over a 100 meters – for small offices or ISPs. Hardware offloaded VLAN-filtering and even some L3 routing on a budget!

netFiber 9
A remarkable outdoor switch for setting up an optical 10G network that can even perform some light routing. The spiritual successor to the beloved FiberBox. Gigabit Ethernet, SFP/SFP+, PoE.

cAP XL ac
The ceiling AP on steroids! Our bestseller cAP is back – juiced up and stronger than ever. Compared to the previous cAP models, the improved high-gain antenna increases the covered area by up to 100%!

KNOT LR8 kit
An out-of-the-box 863-870 MHz IoT Gateway solution for LoRa® technology. For ultimate versatility and cost-effectiveness. The first gateway with a CAT-M interface for LoRa®!

KNOT LR9 kit
An out-of-the-box 902-928 MHz IoT Gateway solution for LoRa® technology. For ultimate versatility and cost-effectiveness. The first gateway with a CAT-M interface for LoRa®!

Cube 60Pro ac
A powerful point-to-point 60 GHz 802.11ay CPE for bridging distances up to 2.4 km.

CubeSA 60Pro ac
A powerful sector antenna to connect multiple 60 GHz routers. Quick and easy networking for all kinds of pop-up events and distances up to 800m.

Wireless Wire Cube Pro
A preconfigured kit of two Cube 60Pro ac (802.11ay 60 GHz) routers: the Wireless Wire Cube Pro. Just point the Cubes at one another and power them on! They will form a blazing fast encrypted wireless connection. Pure plug-and-play!

RB5009UG+S+IN
The ultimate heavy-duty home lab router with USB 3.0, 1G and 2.5G Ethernet and a 10G SFP+ cage. You can mount four of these new routers in a single 1U rackmount space! Unprecedented processing power in such a small form factor.
Popular

PowerBox
650MHz CPU, 64MB RAM, 5xEthernet with PoE output for four ports, RouterOS L4, outdoor case, PSU

hEX
5x Gigabit Ethernet, Dual Core 880MHz CPU, 256MB RAM, USB, microSD, RouterOS L4

RB2011iLS-IN
Desktop metal case, 5xEthernet, 5xGigabit Ethernet, SFP cage, PoE out on port 10, 600MHz CPU, 64MB RAM, RouterOS L4

RB4011iGS+RM
Powerful 10xGigabit port router with a Quad-core 1.4Ghz CPU, 1GB RAM, SFP+ 10Gbps cage and desktop case with rack ears

hEX S
5x Gigabit Ethernet, SFP, Dual Core 880MHz CPU, 256MB RAM, USB, microSD, RouterOS L4, IPsec hardware encryption support and The Dude server package

hAP ac lite
Dual-Concurrent 2.4/5GHz AP, 802.11ac, Five Ethernet ports, PoE-out on port 5, USB for 3G/4G support

hAP ac²
Dual-Concurrent 2.4/5GHz AP, 802.11a/b/g/n/ac, Five Gigabit Ethernet ports, USB for 3G/4G support, universal tower case and IPsec hardware encryption support

Audience
Tri-band (one 2.4 GHz & two 5 GHz) home access point with meshing technology

RB4011iGS+5HacQ2HnD-IN
Powerful 10xGigabit port router with a Quad-core 1.4Ghz CPU, 1GB RAM, SFP+ 10Gbps cage, dual band 2.4GHz / 5GHz 4x4 MIMO 802.11a/b/g/n/ac wireless and desktop case